Vaccinations
M Clinic provides vaccinations for men who have sex with men, trans people and non-binary people if they are not already immune. It is necessary to have an appointment to have a vaccination at M Clinic prior to visiting, otherwise we can book your next appointment while you're here.
The following vaccinations are offered free of charge to clients who are not currently vaccinated:
Hepatitis A vaccine
Hepatitis B vaccine
Combined Hepatitis A and B vaccine
Monkeypox vaccine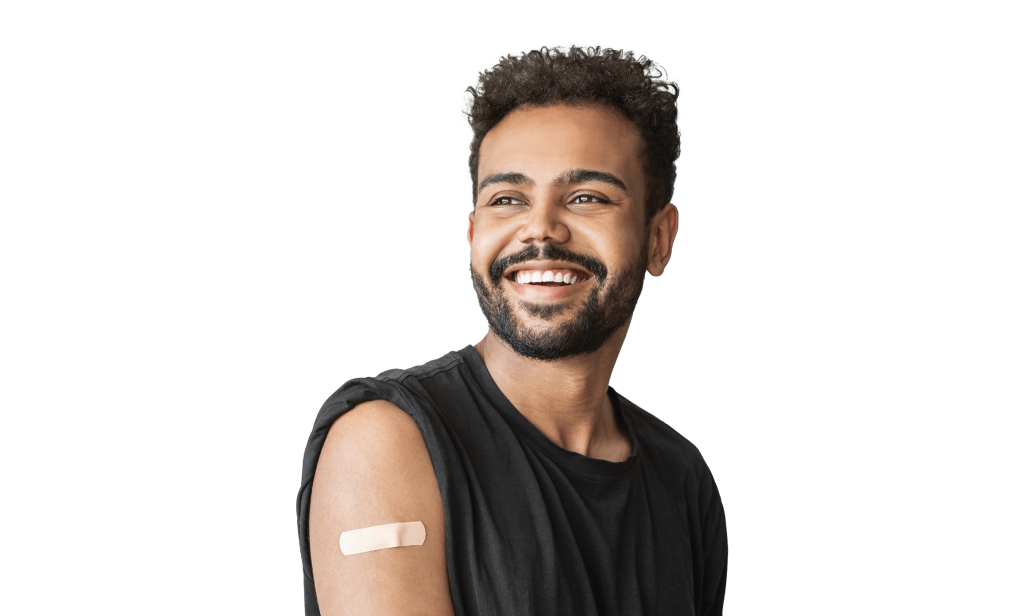 Why are vaccines important?
Vaccines are important for stopping the spread of certain diseases and infections, and can keep you safe and protected without the need to worry.
As with Covid-19, not all vaccines grant immunity, though they may help to severely lower the infection rate which can stop the spread of certain diseases (such as smallpox), or can drastically lower the severity of symptoms if you do become infected.
As always it is best to consult a doctor who will help advise if a vaccine is needed or not, as at times underlying health issues may impact the availability of vaccines.
What vaccines do you supply?
We offer vaccinations for hepatitis A and B, HPV, and most recently mpox. To find out more about each of these vaccines, read below.
Hepatitis A and B

Hepatitis A and B can be transmitted through condomless anal and vaginal sex, fisting without gloves, sharing injecting equipment and drug paraphernalia, as well as sharing sex toys.

If you are not immune to Hepatitis A or B and classify as a man who has sex with men (MSM), you may be eligible for free vaccinations to either Hepatitis A (Havrix), Hepatitis B (Energix-B) or both (Twinrix). Please talk to one of our nurses to discuss your options.

There is no vaccine for Hepatitis C. However, it can be treated with Medicare subsidised medication.
HPV

HPV (or Human Papilloma Virus) is a sexually transmitted infection that occurs with men and women. A few strains have been shown to instigate cervical cancer in women, while other strains have been shown to instigate anal cancer and genital and anal warts in men.

Human Papillomavirus (HPV) nonovalent vaccine, aka Gardasil, is also available at M Clinic. All teenagers now received the Gardasil vaccine for HPV in their high school vaccination program. This vaccine is used to protect people from nine strains of HPV that can cause genital warts and are associated with cancers of the anal, genital and oral regions.

Gardasil is available for free to men aged 26 or younger*. The Schedule is three injections over six months.

*If you are 27 years of age or older and are interested in receiving the Gardasil vaccination, please call the clinic. M Clinic can provide the Gardasil 9 vaccine at a cost price which is $219.20 per dose (3 doses are required).
Mpox

Mpox is a recent virus that is in the same family of viruses as smallpox, though which generally causes milder symptoms. It is spread from skin-skin contact, prolonged exposure to someone who has mpox, or by sharing bedding, clothes, or similar with someone who has mpox.

Recently we have been offering mpox vaccinations for men who have sex with men due to the recent outbreak happening across the globe.

While the vaccination does not make you immune to mpox, it will help protect you from contracting mpow, and will lessen the severity of symptoms if you do still contract it.
Learn about STIs
Take pride in your sexual health by knowing your STI status. There is no shame in testing and knowing what to look for, and can even help keep you and your sexual partners healthy.
Find out more about STIs, what to look for, how they're spread, and what the treatment is by clicking on the STI below.
You are welcome at M Clinic
M Clinic provides confidential, judgement-free services for men who have sex with men, gay, trans, gender-queer, and non-binary people of the LGBTQIA+ community.
If you are unsure if we are the right clinic for you, get in touch and we will be able to help you find the right fit for your needs.
Trans and Non-binary
We offer services for trans, non-binary, and gender-diverse persons seeking to get medical advice in a safe and accepting environment.
Men Who Have Sex With Men
If you're a man and have sex with other men, M Clinic provides a safe space where you can get tested without judgement or questions.
Gay and Questioning
If you identify as gay, bi, or questioning and want a clinic that reflects you, you are always welcome to come to M Clinic for your next checkup.